Financialisation and Sustainability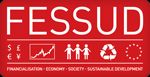 University of Siena, Residenza Il Refugio – September, 8 and 9 2014
The workshop aimed at promoting the dialogue and collaboration between the researchers working on financialisation and sustainability within the European Research Project FESSUD (Financialisation, Economy, Society and Sustainable Development).
The workshop hosted the Goodwin Lecture on Sustainability "Policies for a green economy: making a reality of sustainable development" given by Prof. Paul Ekins (UCL, University of London).
Download the programme of the workshop.